BOOKING HAS STARTED!
The construction phase of the Port Isabel Event & Cultural Center is closing in on the last 15% of completion and staff has been busy implementing reservation and booking software and is NOW BOOKING RESERVATIONS. Those interested can contact the PIECC at 956/943-0719 or ecdirector@copitx.com to discuss event plans and services and reserve dates. More information may also be found on www.portisabel-texas.com/eventcenter, regarding rates and amenities.
On Thursday, January 16, 2014 – 9:00 a.m. at Café Kranzler, join Event Center Director Mari Galvan and City Manager Edward Meza at the South Padre Island Chamber of Commerce Government Affairs Committee's Coffee and Conversation. Galvan and Meza will present an update on what is on the horizon for this new facility.
The PIECC offers a variety of flexible meeting and event space with expert audio/visual capabilities and a 9,000 square feet capacity accommodating up to 1,200 people. The largest rentable open floor space, the Queen Isabella Ballroom, is 8,000 square feet and can accommodate between 400 to 850 people. The Queen Isabella Ballroom can also be divided into two rooms, the Reyna Isabella and the El Fronton, both nearly 4,000 square feet. The Emergency Operations Center (EOC) is 1080 sq. ft. of space, with 12 ft. ceilings, that may be converted to a boardroom type of room layout when not in use as an EOC. The room is equipped with state-of-the-art technology and will be able to support a wide variety of multi media events. Outdoor space at the PIECC includes the Charles Champion Courtyard and a generous parking area suitable for open air events.
The service oriented PIECC is conveniently located within walking distance of downtown Port Isabel, accommodations, restaurants, museums, waterfront activities and shopping. The non-smoking PIECC will provide a list of suppliers, including caterers, florists, linens and audio/visual equipment.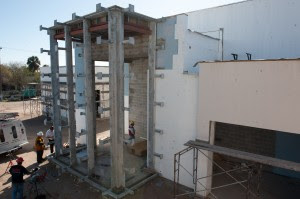 The main entrance of the structure has been designed to reflect the area's nautical theme and will feature a wall made up of back lit panels highlighting a bubble pattern.
The colonnade, to the right of the entrance feature, leads to the Queen Isabella Ballroom, 8000 square feet of open space with 19' ceilings and an entrance each end. In the service area of the Queen Isabella Ballroom, an 8 ft. door has been installed to allow vehicle access. The Queen Isabella Ballroom is also divisible for events requiring a smaller space, breaking down to the Reyna Isabella and the El Fronton, each 3968 sq. ft.
The property also features a prep kitchen for catered events and will also office staff.
LIKE us on FACEBOOK: https://www.facebook.com/portisabeleventcenter
VISIT our WEBSITE: http://portisabel-texas.com/eventcenter/
CALL for more INFORMATION: 956/943-0719